Late in the Eagles' exceptional showcase at the Smoothie King Center on Saturday, Don Henley was the focus of his 1984 solo hit "The Boys of Summer." His voice essentially unchanged, he sang without irony, "Don't look back, you can never look back."
Ignoring his own advice, he and his comrades spent nearly three hours on stage looking back.
And nostalgia never sounded so good.
Henley and bassist/vocalist Timothy B. Schmit are 75. Guitarist/vocalist Joe Walsh, the only other remaining member of the band from the Eagles' heyday in the late '70s, turned 75 the day after the New Orleans show. "I had a lot more fun being 20 in the '70s than being seventy in the '20s," Walsh said.
They opened the show with a full performance of "Hotel California," the 1976 opus that ranks among the best-selling albums of all time. To begin, a caped actor walked dramatically across the stage to a turntable, where he gazed at a vinyl copy of the album before launching Side One. After "Wasted Time", a woman in a black dress flipped the album over to side two.
The overall production was lavish, from the glass-like video screens – which switched to close-ups of the guitarists' hands during solos – to the lights. An orchestra made up of members of the Louisiana Philharmonic Orchestra stood on an elevator at the back of the stage for "Wasted Time"; they came and went throughout the show.
Vince Gill was a brilliant choice to help fill the void left by the passing of Glenn Frey in 2016. He arrived with his own star power, thanks to his long career. His Nashville pedigree fits well with the Eagles' California country aesthetic. And besides being a top-notch guitarist, his tenor is reminiscent of Frey's, as evidenced by "New Kid in Town" and elsewhere.
Performing "Hotel California" in its entirety meant dusting off the three tracks on the album that weren't hit singles. Walsh sang the lead in "Pretty Maids All in a Row", arguably the weakest of the three. Gill covered the country "Try and Love Again". The two dozen members of the Frazier Singers choir helped out on "The Last Resort."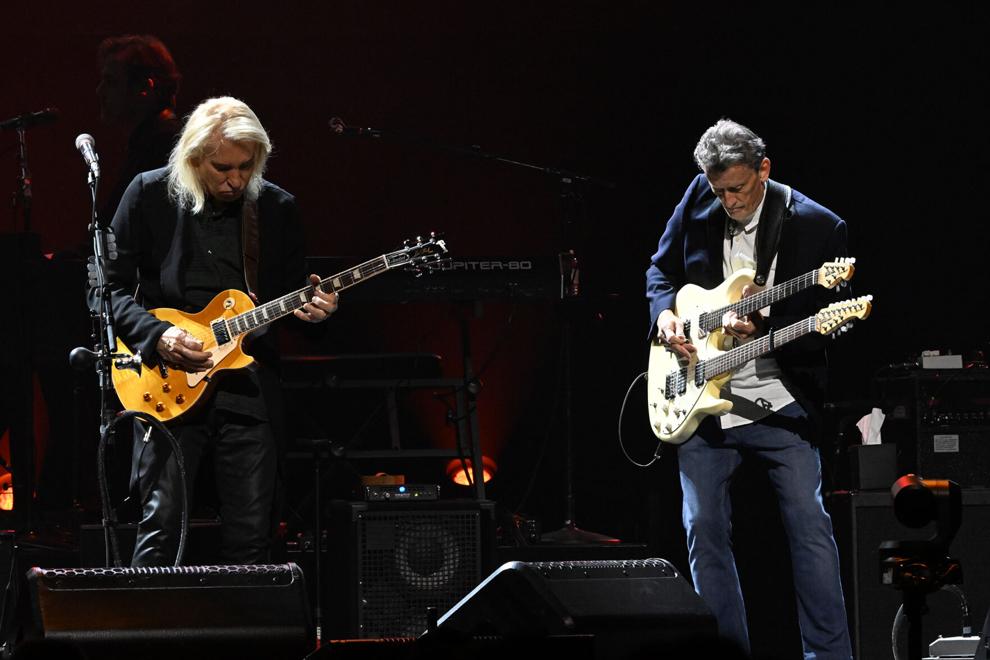 No one in the band even said hello to the audience until "Hotel California" was over. Then Henley became talkative, like a grumpy old guy.
Signs posted at the entrances to the arena asked fans not to take videos on their cellphones. Before leaving the stage for a 20-minute intermission, Henley pointed to someone in the suite seats and warned, "If you don't turn it off, I'm going to come up there and put it in your butt. ."
Later, in the second half of the show, he apologized for his outburst, saying he had been "misinformed": "You get grumpy when you're 75."
He didn't give himself a free pass for anything else. He played drums while singing on "One of These Nights" and other songs. He switched to percussion for the heavier songs or stepped forward to play guitar and sing, letting one of the band's back-up musicians take over on drums.
With the Eagles, the harmonies and guitar solos are expected to be perfect, and they were, remarkably, on "Seven Bridges Road", "Lyin' Eyes" and elsewhere. But the musicians sometimes found space to stretch out. Walsh and Steuart Smith added a bonus guitar riff coda to "Life in the Fast Lane".
Twenty years ago, Smith replaced Don Felder as the Eagles' lead guitarist. His taste, touch and tone were impeccable, from the moment he opened Saturday's show with an immaculate recreation of the ringing double-neck guitar passage from the title track "Hotel California." Her solo in "I Can't Tell You Why" was charming and delicate.
During the 2018 Eagles tour, Glenn Frey's son Deacon spent the entire show on stage with his father's old band. This time around, Deacon was relegated to "special guest" status, only coming out for a handful of songs.
When he did, he was a human time capsule: With his jeans, t-shirt, shoulder-length black hair and youth, he looked like a 1977s eagle. Acoustic guitar in hand, Deacon has evoked the spirit of his old man as lead vocals on a bubbly "Take It Easy" and a lovely "Peaceful Easy Feeling." He then disappeared until called back.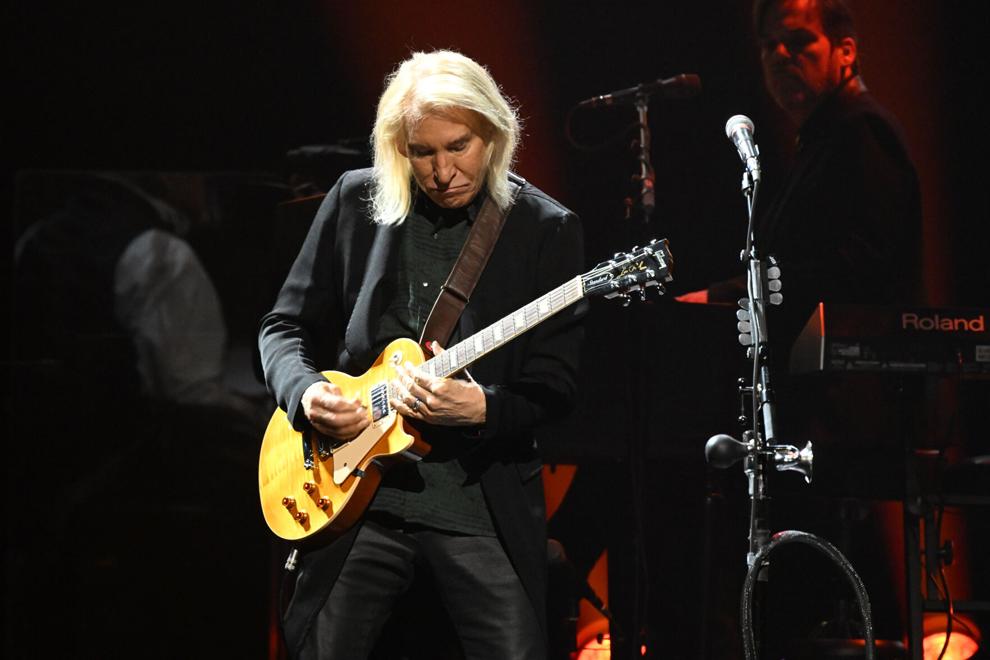 It was left to Gill to handle Glenn Frey's vocals on "Tequila Sunrise", "Lyin' Eyes" and elsewhere. "Vince is going to sing one right now and I bet you guys are going to sing it with him," Henley said before "Take It to the Limit."
He was right. With its five-part harmonies, sweeping strings thanks to the LPO, and Gill holding notes for accent, "Take It to the Limit" was lavish.
Walsh, as usual, provided comic relief. Referencing his milestone birthday, he joked: "There's no '75 for dummies.' I watched." In his "Life's Been Good", instead of "they write me letters/tell me I'm fine", he sang "They write me e-mails". He and Gill faced off, trading licks, in "Funk #49". In "Rocky Mountain Way," the guitars were cranked up.
In the encore, the LPO honored "Desperado". Henley stretched the "love" in the "you better let someone love you" finale, signaling the audience to sing the line to him.
It would have made a great ending. But then they launched an excessive "Already Gone", with its soaring harmonies. Henley invited the audience to join "Best of My Love" and "sing along for Glenn". They finally ended with a stab at Fats Domino's "Walking to New Orleans," a song Henley heard growing up in East Texas via WNOE's powerful signal.
Ahead of "Best of My Love," Henley noted that 2022 marks the Eagles' 50th anniversary. During that time, "there have been a lot of changes," he said, citing examples of favorite New Orleans restaurants: "K-Paul's is gone. Uglesich has disappeared."
"But," he continued, "those songs are still there."
And in the capable, weathered hands of the Eagles, they still sound fantastic.