Eagles producer on the making of the "Hotel California" album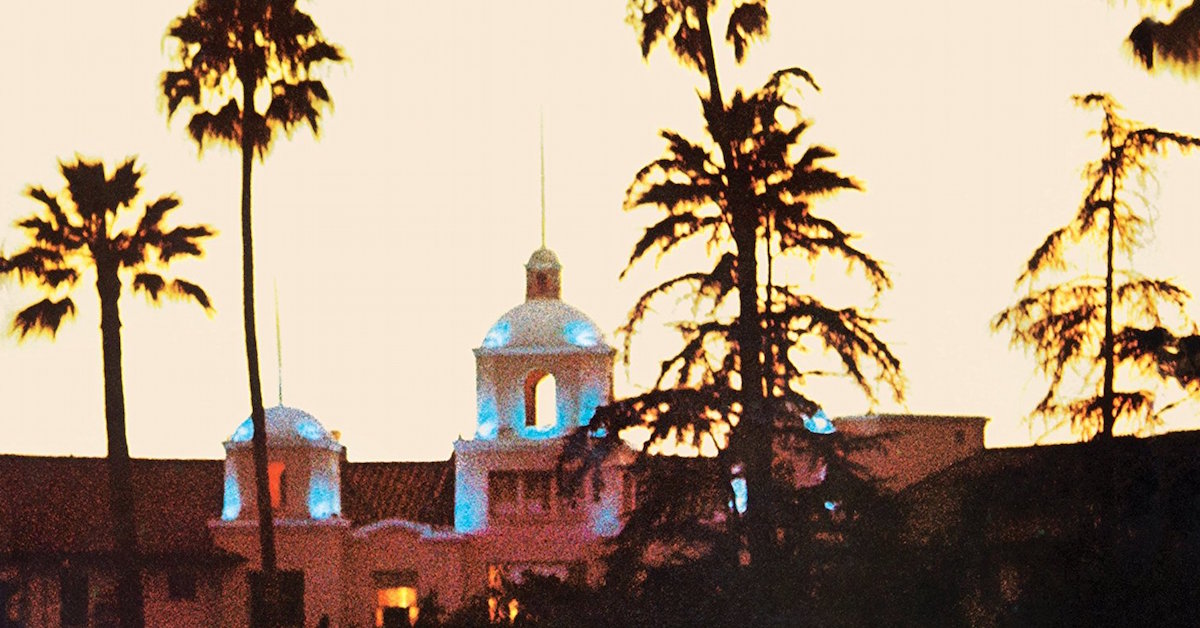 Created almost entirely in the studio – the band only had one song ready when they started the project –Hotel California has been Eagles at their creative and commercial peak. Phrases such as "life in the fast lane" and "you can check in whenever you want but you can never leave" have become part of American jargon.
The album – with worldwide sales of $32 million – was re-released in late 2017, remastered with a bonus 5.1 surround sound mix and a 1976 Fabulous Forum concert featuring songs from the album before it was even released. It is the third best-selling album in the United States, selling over 26 million copies.
Hotel California was released on December 8, 1976. It reached No. 1 in the United States on January 15, 1977.
Part of its enduring appeal is the meticulous production work by Bill Szymczyk, the band's long-time collaborator with the stunning name (it's pronounced "sim-zik"). The staggered final chorus of "Life in the Fast Lane" was Szymczyk's idea, along with other production work, including creating the Joe Walsh/Don Felder guitar duel in the title track. The 5.1 mix in the deluxe package is taken from Szymczyk's long-sold out 2001 mix – the original is now selling in triple figures on eBay.
Szymczyk, who has worked with everyone from The Who to BB King, spoke to Best Classic Bands from his home in North Carolina, offering insight into the recording process.
Best Classical Bands: When the Grateful Dead's american beauty was mixed in 5.1, the band said they wanted you to feel like you were sitting in the middle of them. Others wanted specific sounds for the songs. Did you have a philosophy for this 5.1 mix?
Bill Szymczyk: I think it was a bit of both. I wanted to put the listener in the middle of everyone, but with each track it would be, "Who in the band are we putting where?" Two acoustic guitars in the back, with vocals and bass in the front, with colored instruments here and there? So it was a mix of the two.
What are the specific things to listen to on the surround mix?
the intro [to "Hotel California"], the phased cymbal. I've had [Don] Henley hit a cymbal and I put him through a phaser. When we did the stereo, he only left me a small part of it. When I did 5.1, no one else was there, so I used a whole bunch of it and flew it around the room.
The guitar solos that end this song called for a surround mix.
[Recording] all those guitars, it was like a three day effort with me, Felder and Walsh. There are at least six tracks with different electric guitars. [In 5.1] I spaced it out so that some of the harmony parts in the verses are glued to the back. The lead stuff we did left and right up front.
"Wasted Time" becomes sonically encompassing in 5.1.
This particular one had like 22 strings. I think we mostly scattered them. I put the treble violins in the front, the cellos and basses were in the back. Then we wrapped the violas and violins around that. Ed Norman made the arrangements. He came over from Texas with Henley in his first band Shiloh. He ended up doing all of our string charts.
Listen at Los Angeles Forum's "Wasted Time" from 1976
How many songs were ready when you entered the studio?
There was a (Laughs). When I arrived for two weeks of rehearsal, the band had rented Ricky Nelson's house in the hills. I fly out of Miami and everyone gathers. I say, "How many songs do you have?" They say, "Un, 'Try and Love Again'", Randy [Meisner]the song. They had pieces: "I got this lick." Everything was done in the studio for nine months.
Wasn't that a ridiculous waste of money, even by '70s rock star standards?
By then it had become the norm. With At the border, all the songs were pretty much finished. One of those nights, there were three songs that were made. The rest was done in the studio. Hotel California, there was one. The long term, nothing was done.
You'd think that with all that time in the studio there would be a ton of alternate takes, but not much came out.
When we cut a piece, a basic piece of a song… it was the final piece; that's it, we wouldn't do anything else [but focus on that track]. As far as snippets and unreleased songs go, there were very, very few. It was only when we got to The long term, with the initial idea of ​​making a double album, which we cut track after track after track. At one point we had 17 tracks, but none of them had vocals on them. [The leftovers] are just pieces without words. A couple ended up but we used them elsewhere. One was "Too Much Drama", which I used on a Mickey Thomas album. "Island of the Hidden Funk" ended up becoming "River of the Hidden Funk" on a [Joe] Walsh solo album. It became "river" because he had actually written a few words at that time.
"Random Victims Part 3" appeared on an Eagles box set with some studio quirkiness.
I had a two lane track most of the way. That's where this stupidity came from. I put together 10 minutes of PG stuff, versus R or X stuff, for the box set.
"Victim of Love" was recorded in one instrumental take, right?
Everything there except the vocals was done live at the same time, lead guitar and everything. There's always a lead guitar overdub or extra acoustics or things like that. It would be the only [that was one take]. We listened and decided it was pretty good that way.
The Forum live bonus concert – how much was recorded at the time? Recording shows is very cheap these days, but back then that meant lots of tape and mobile recording studios.
There is few of it. Do you remember when Howard Cosell had a variety show for like 20 minutes [in 1975]? We did a bit live from Balboa Stadium in San Diego and it went straight to TV. Whatever happened to those tapes, I have no idea. I recorded a concert in Washington, DC, which is part of [the documentary] History of the Eagles. It was an advantage for [California Governor] Jerry Brown when he was running for president. Then when we were actually doing the [1981] live album, I did four nights at the Santa Monica Civic then the Long night at the wrong beach.
Listen to "Hotel California" from the 1976 Forum
Why has it been so poorly recorded? Live albums made the reputation of bands in the 70s – The Allman Brothers, The Who, Peter Frampton.
Other people's live albums sound a little different from records. This is not the case with the Eagles. They would go out of their way to recreate the cut of the album. They weren't radically different.
Related: Meet the man behind the Hotel California album cover
So after all these years, do you even Like these songs anymore?
Let's put it this way. I don't play it for my own pleasure anymore (laughs). I'm going to listen to some albums I've made. The Eagles are not one of them. When you are 18 months old [in the studio recording] The long term, you don't want to hear that anymore. But I love hearing them on the radio, one cut at a time.
Tickets for the Eagles 2022 Hotel California visit are available via ticket master and StubHub.
Related: Our review of an Eagles concert in 2021

Latest posts from Mark Brown
(see everything)